Ready for some of the easiest and most yummy cake you've ever had in your life? Because this White Chocolate Raspberry Poke Cake is exactly that. It's super rich, indulgent and deliciously sweet.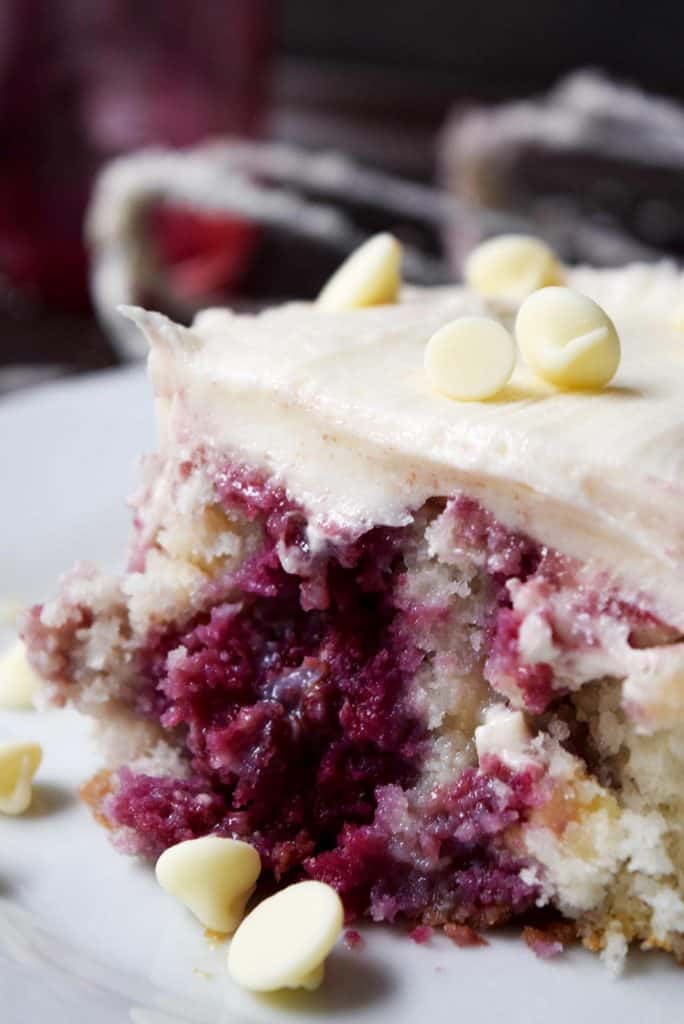 There are a lot of different combinations of flavors I love out there. Peanut butter and chocolate is definitely one of them… hence the peanut butter chocolate cookies and the peanut butter and chocolate milkshakes.  White chocolate raspberry is up there in the top three though and is one of those combos I feel like is routinely under hyped.
I know there are some of you out there that don't like white chocolate (and yet, you're here…) but I'm going to go ahead and assume you're in the minority. Because white chocolate is delicious. And raspberries. Is there a better fruit in the world? I mean, we're willing to put up with all those pesky seeds just to eat them! You're in luck though, as this recipe helps you get all that raspberry flavor without the seeds mucking things up.
Plus, it's poke cake. Which means its the easiest way to delicious out there – the perfect combination of flavors and moist cake that makes every single bite taste amazing.
Note: This post may contain affiliate links.
White Chocolate Raspberry Poke Cake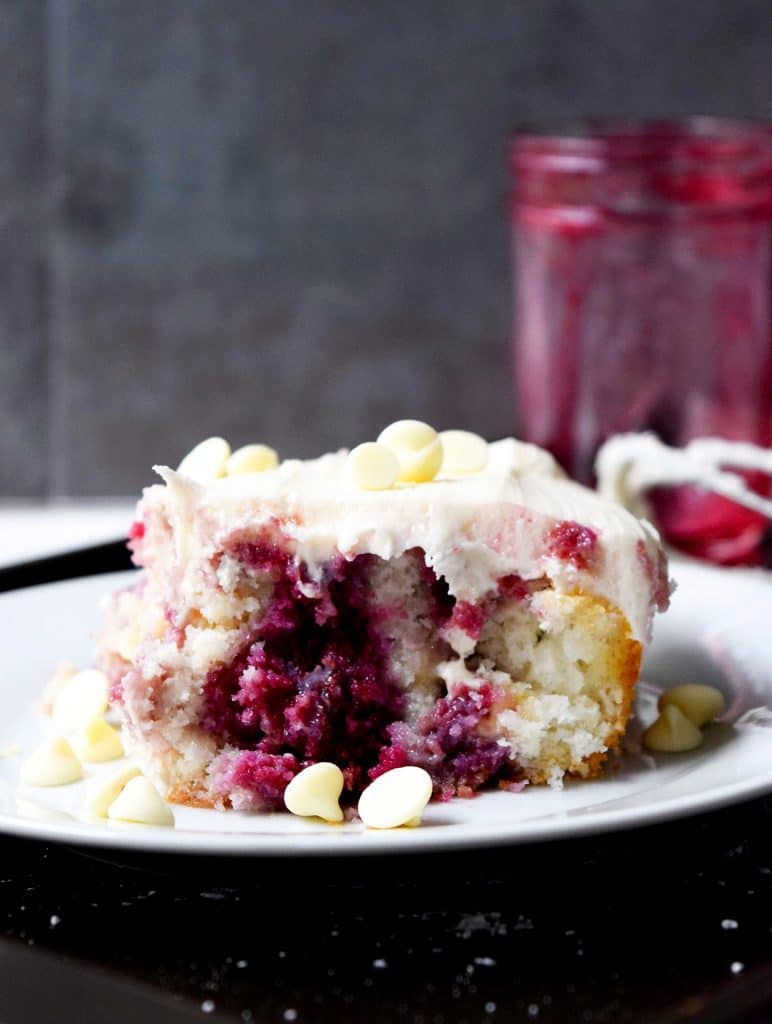 You will need:
1 box white cake mix and ingredients to make it
1 cup raspberry syrup
1 can sweetened condensed milk
11 oz bag white chocolate chips
4 cups buttercream frosting
Make cake mix according to directions. To maintain white color of the cake follow directions to only use egg whites. Before baking sprinkle ½ cup of white chocolate chips over the cake.  Bake according to directions in a 9×13 pan. It should come out looking like so: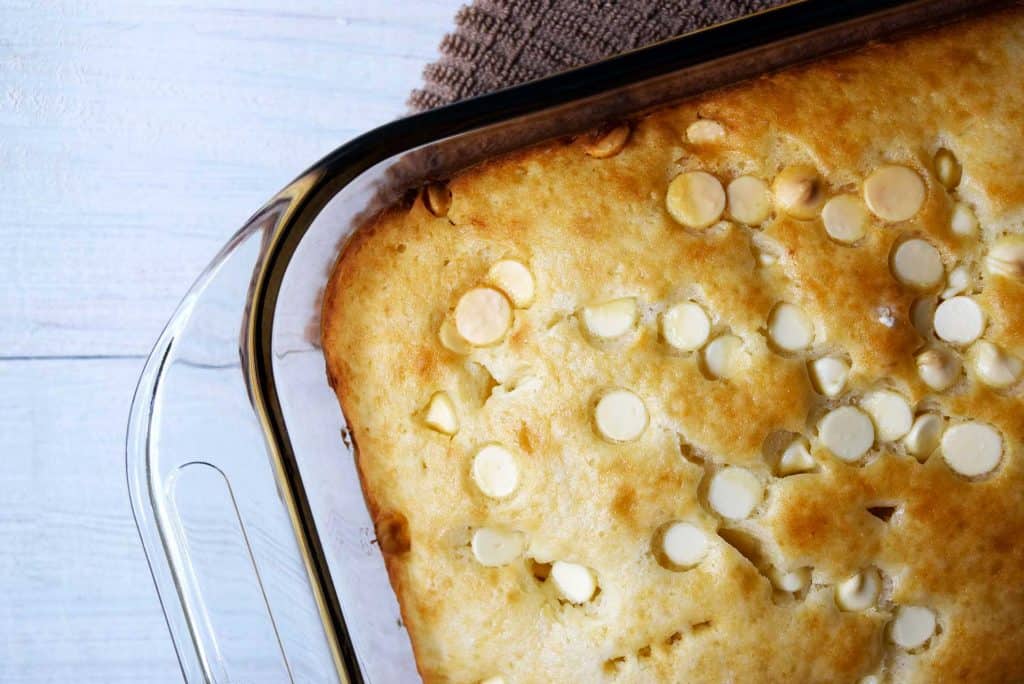 With all those delicious white chocolate pieces helping to create nooks and crannies in your cake.
Once the cake is cool enough to touch but still warm, use a spoon end to poke holes in the cake. This is the poke in the white chocolate raspberry poke cake. It should look a little like this: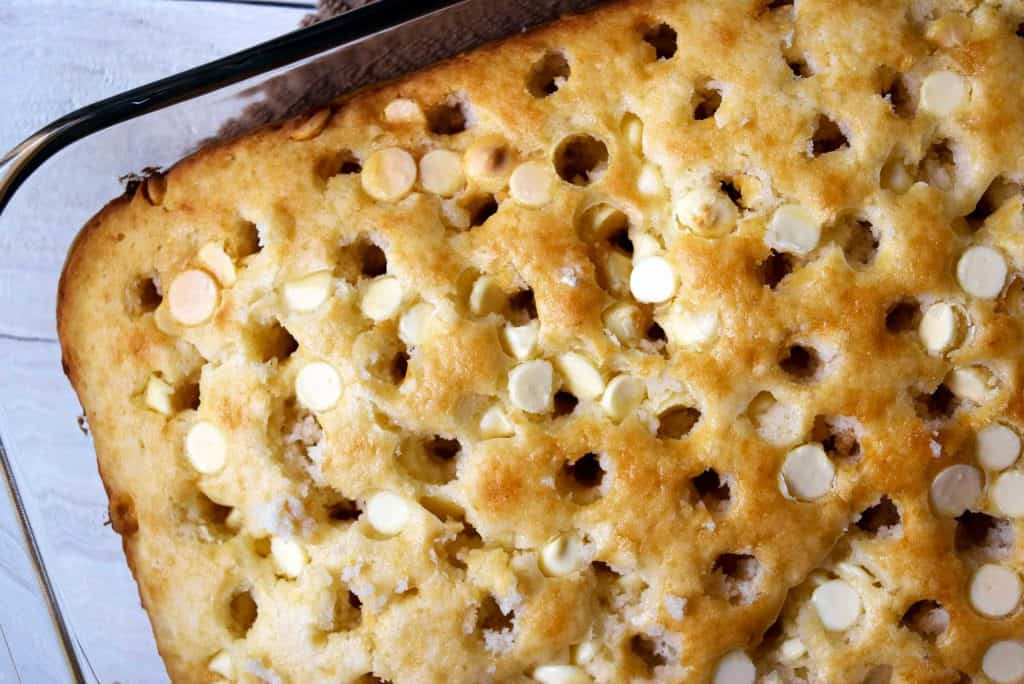 Pour raspberry syrup over top.  Set cake aside.
Melt 2/3 cup of white chocolate chips in a bowl. Once melted, incorporate the can of sweetened condensed milk. Pour this mixture over the cake.  The white chocolate mixture and the raspberry syrup should be melting into all those little holes you created: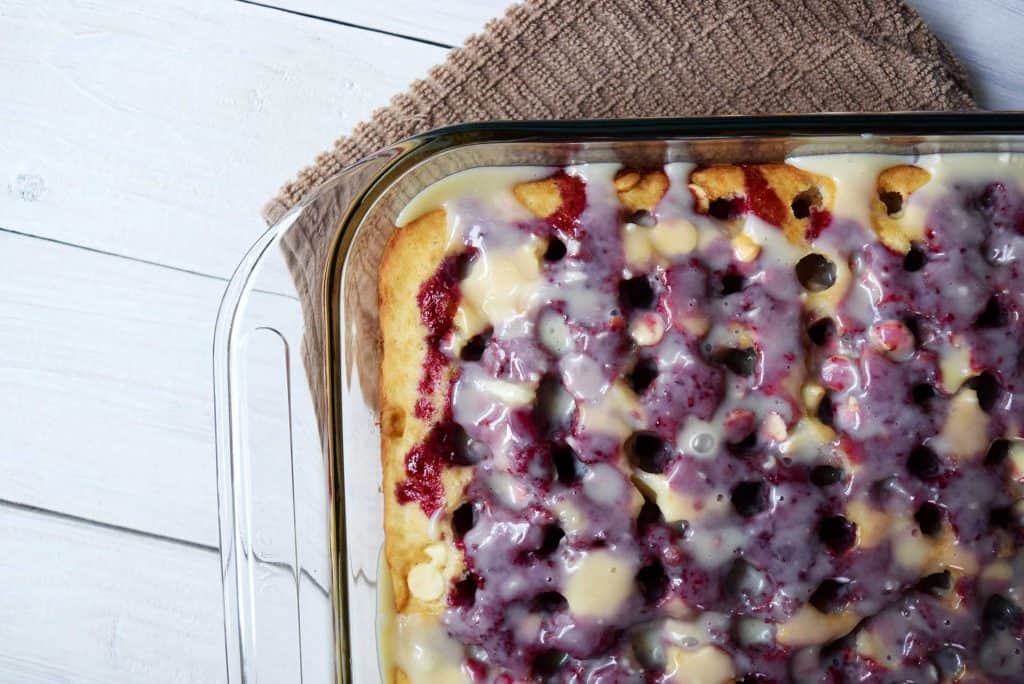 Set aside to cool completely.
Once cool, spread buttercream frosting over the top (or substitute whipped cream for a less sweet version). For prettiest results, spread a thin layer of buttercream over top and put in freezer for 5 minutes until layer hardens slightly. Then finish frosting. This will help prevent the cake and raspberry mixture from getting mixed in with the icing.  Sprinkle remaining white chocolate chips over top.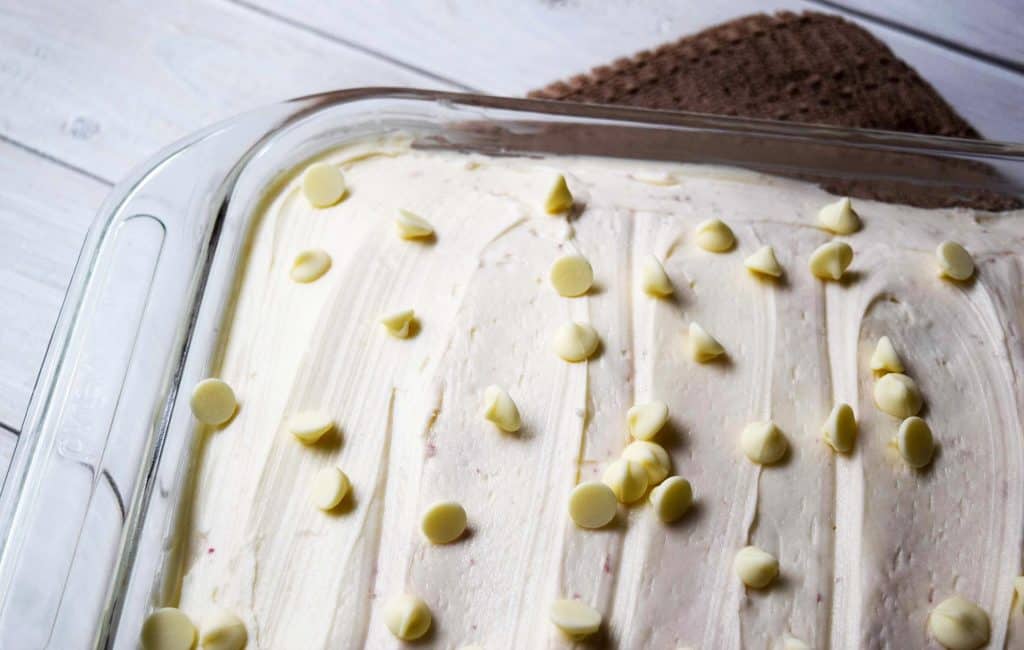 Serve!